China Student Visa is divided into X1 & X2. X1 is issued to aliens who come to China for study, advanced studies more than 6 months. Chinese X2 visa is issued to aliens who come to China with same purpose but for a period of less than 6 months.
You are not permitted to work on the Chinese student visa. For foreign students who work in violation of the regulations on the administration of foreign students working to support their study in China and work beyond the prescribed scope of jobs or prescribed time limit, they shall be deemed unlawful employment and will probably have to stop or be expelled.
Chinese Student Visa Application
Chinese Student Visa - X1 Application
Required Documents:
Passport
Passport photo (Photo Requirements of Chinese Visa)
One truly completed Application Form Download
Original and a copy of approved Foreign Student Visa Application Form JW201 or JW202.
Original and a copy of Admission Notice from the university or Chinese school.
Notice:
You need to make application to the consular office of the Chinese Embassies or Consulates in your country or HONG KONG personally.
The regular service takes 4 working days, the express Service takes 2-3 working days.
Our experienced experts will fix the problems in the China Student X Visa application through our strong network.
Chinese Student Visa Extension
Beijing Police Instructions on X2 Visa Extension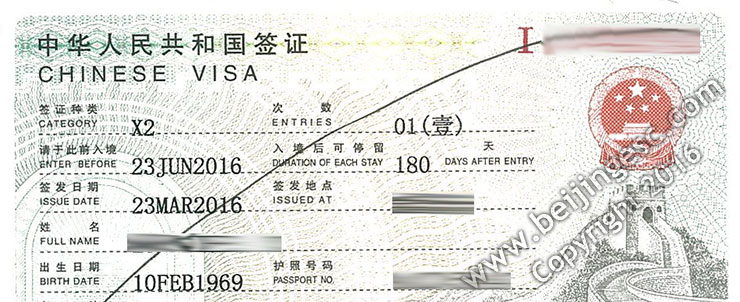 Immigration department of Beijing Police's Instructions on X2 Visa Extension or Renewal for Foreigners
Supporting Documents and Relative Requirement:
Valid passport or other international travel documents.
Completing the VISA / STAY PERMIT / RESIDENCE PERMIT APPLICATION FORM with black ink or sign pen, attached with a recent half-length, white background, bareheaded, full-faced 2-inch color photo (Photo Requirements of Chinese Visa).
Valid Accommondation Registration of the applicant obtained from local police station or hotel of present residence.
For current X2 visa holders, admission notice or certification documents of enrollment issued by the host institution shall be submitted. And Visa Application Form for Study in China (Form JW201/JW202) as well for non-X2 visa holders.
Other supporting materials that the Exit-Entry Administration Department may require.
Timeline for Application:
X2 visa holders could apply for an extension with validity of no longer than 180 days.
Non-X2-visa-holders could apply for an X2 visa renewal with the validity of less than 1 year, the stay duration of less than 180 days and various number of entries from zero to multiple. However the accumulative duration of stay with the renewed visa could not exceed 1 year from the date of the latest entry of China.
The extension of a current X2 visa is only valid for this referred entry and does not affect the number of entries or the validity on the original visa. The accumulated term of extension shall not exceed the original duration of stay which is specified on the visa.
Points for Attention
The applicant shall go through a face-to-face interview. However, for applicants who are aged under 16, or above 60, or inconvenient to travel due to disability, the host organization or a particular service agency can submit the application on behalf of the applicant (a copy of the trustee's ID is required). Nonetheless, if the Exit-Entry Administration Department notifies the applicant that an interview is necessary, the applicant must go through the interview personally.
For the above-stated materials, the original documents need to be verified, and submit the copies.
Any application materials in foreign language ( except English ) shall be translated into Chinese by qualified translation company before submission.
Applicant who doesn't nullify cancel China's household registration should apply after the cancellation of household registration. The relevant cancellation certificate issued by local police station of the registration shall be submitted if the Exit-Entry Administration Department consider it necessary.
Foreigners under 18 who submit the application for the first time in China shall prepare the birth certificates, passports of parents and certification of overseas residence status.
Relevant rules please refer to No. 23 Notice of the Regulations on Foreigners' Visa Application.