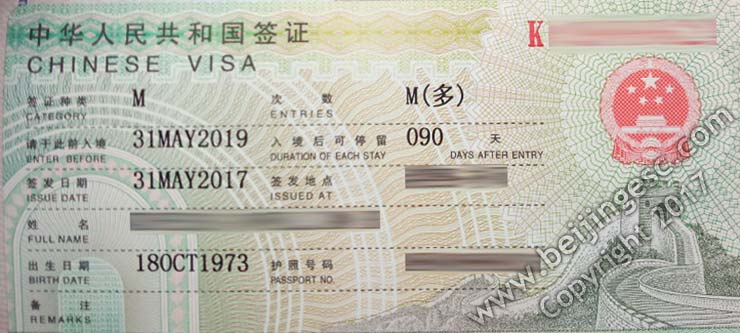 China Business Visa (M): Issued to foreigners who are invited to China for business activities, formerly called F visa.
If you enter into China on a Business visa with intention to stay beyond the validity period specified on the current visa, BeijingESC can assists you to extend your current China M visa. You can apply single-entry or multiple-entry Chinese Business visa for 1 time in China, according to the new China immigration law which came into force on 1st July 2013.
Chinese Business Visa Extension
Immigration Department of Beijing Police's Instructions on Chinese business visa extention or renewal
Documents and Requirements
Valid passport or other international travel documents.
Completing the VISA / STAY PERMIT / RESIDENCE PERMIT APPLICATION FORM with black ink or sign pen, attached with a recent half-length, white background, bareheaded, full-faced 2-inch color photo (Photo Requirements of Chinese Visa).
Valid Accommodation Registration of the applicant obtained from local police station or hotel of present residence.
Relevant certificates of the host organization relating to its legal status in Beijing, such as enterprise business license, registration certificate for permanent representative institution of foreign (regional) enterprise, etc., depending on various nature of host organization.
For current M visa holders, certification letter from the host and inviting organization or individual, which shall give every detail of the applicant's travel to China and all information provided shall be true and correct. As for individual host or partner, signed certification letter and Beijing Household Register or Temporary Residence Permit in Beijing and Identification Card shall be submitted.
In the light of the circumstances, supporting materials relating to the state of business of host and inviting organization.
Other supporting materials that the Exit-Entry Administration Department may require.
Timeline for Application
M visa holders could apply for an extension with validity of up to 180 days.
Non-M-visa-holders could apply for an M visa renewal with the validity of less than 1 year, the stay duration of less than 180 days and various number of entries from zero to multiple. However the accumulative duration of stay with the renewed visa could not exceed 1 year from the date of the latest entry of China.
The extension of a current M visa is only valid for this referred entry and does not affect the number of entries or the validity on the original visa. The accumulated term of extension shall not exceed the original duration of stay which is specified on the visa.
Points for Attention
The applicant shall go through a face-to-face interview. However, for humanitarian reasons, in case the applicants are aged above 60, or inconvenient to travel due to disability, the host organization or individual, or a particular service agency can submit the application on behalf of the applicant (a copy of the trustee's ID is required). Nonetheless, if the Exit-Entry Administration Department notifies the applicant that an interview is necessary, the applicant must go through the interview personally.
For the above-stated materials, original documents need to be verified and copies of original documents submitted, whereas for Paragraph 5 of Supporting Documents and Relative Requirement, the original document shall be submitted.
Any application materials in foreign language (except English) should be translated into Chinese by qualified translation Company before submission.
Applicant who doesn't nullify cancel China's household registration should apply after the cancellation of household registration. The relevant cancellation certificate issued by local police station of the registration shall be submitted if the Exit-Entry Administration Department consider it necessary.
Relevant rules please refer to No. 23 Notice of the Regulations on Foreigners' Visa Application.
Processing time: 8 business days
More about China M Visa Extension:
Where the duration of stay needs to be extended, the visa holder shall file an application 7 days prior to he expiry of the duration specified in the visa.
The visa-issuing authorities are not required to give reasons for refusing he issuance of a visa.
If you are hired by a company registered in Beijing, we have the outsoucing service for China residence permit application.
For more information and help, please contact us.
You may submit the application to the Visa Office of the Embassy or Consulate which holds consular jurisdiction.
The regular processing time is 4 working days. In some country, it can be issued in the same day.
Required Documents of Chinese Tourism Visa Application:
A valid passport as well as a copy of its information page: Your valid passport must have at least seven (7) months of remaining validity and at least one blank visa page in it.
Application form
Photo: one recent photo (Photo Requirements of Chinese Visa) glued or stapled on the application form.
Business Card from an oversea company
Invitation Letter from a China-registered company
Business license from a China-registered company