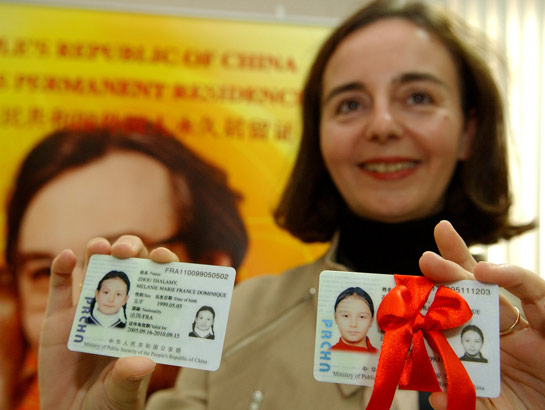 With the approval of China's State Council, the Minister of Public Security, Zhou Yongkang, and the Minister of Foreign Affairs, Li Zhaoxing, jointly endorsed Decree No.74 and officially issued the Regulations on Examination and Approval of Permanent Residence of Foreigners in China for implementation on August 15.
According to this regulation, foreigners with eligibility for permanent residence in China will be granted a certificate of identification commonly known as China Green Card.
Who can get China Green Card ?
Be a high-level foreign expert holding a post which promotes China's economic, scientific and technological development, or social progress.
Have made outstanding contributions of special importance to China
Have made a large direct investment of over US$ 500,000 in China
Have come to China to be with your family, such as spouse, dependent minors or senior citizens.
The unmarried children under the age of 18 who come and seek refuge with parents.
Check more specific requirements at Who Can Apply For Chinese Permanent Residence Certificate? in our FAQ Section.
Required documents for China Permanent Residence Certificate application:
Valid Passport;
Health certificate issued at state level;
Credentials proving no criminal record by China embassies or consulates;
Two passport photos, no hat;
Other relevant credentials if required.
Government fee of China Permanent Residence certificate are:
New application - 1800RMB
Renewal - 300RMB
A Chinese green card is not equivalent to Chinese nationality. Presently China does not recognize dual or multiple nationalities. Thus, if one wants to become a Chinese national, original nationality status would have to be cancelled.
Those who obtain a Chinese green card should not stay in China less than three months in a year or less than a year in five years. Special causes will need approval from city level public security bureaus.
Expats with a Chinese green card will still need to observe rules concerning traveling, temporary living in other cities, and visiting areas closed to the public.
China Green Card FAQs
According to the state-own news agency - Xinhuanet, 1576 foreigners got China Green Card in 2016.