China Tourism Visa (L visa): Issued to those who enter China temporarily for leisure, family visiting or other personal affairs (If the applicant applys for visa extension in China, multiple-entry is not granted for this category with an options of up to two entries).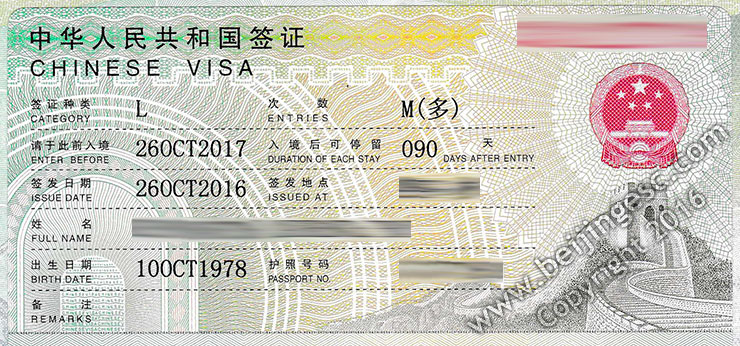 1-year Chinese L visa, issued oversea on the 26th Oct 2016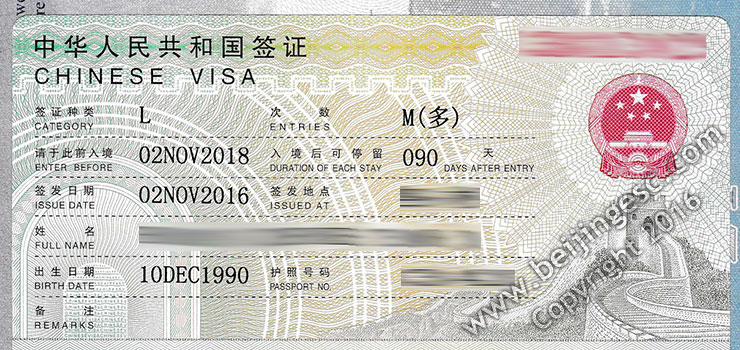 2-year Chinese L visa, issued oversea on the 2nd Nov 2016
Chinese Tourism Visa Application and Extension
The Immigration Department of Beijing Police's instructions on Chinese tourist visa extension.
Applicant: Inbound foreigners who holds Chinese tourist visa
Supporting Documents and Relative Requirement
Valid passport or other international travel documents.
Completely filled VISA / STAY PERMIT / RESIDENCE PERMIT APPLICATION FORM with recent half-length, white background, bareheaded, full-faced 2-inch color photo (Photo Requirements of Chinese Visa) . Please fill in the application form in black ink or sign pen.
Valid accommodation registration of the applicant provided by the local police station or hotel of present residence.
Applicants for a Tourist (L) visa shall provide their travel itineraries, which should contain detailed information about the applicant's stay in China.
Group travelers shall provide a proof document by a Beijing travel agency. The proof document should explain relevant information about the group travelers and arrangements should the visa has to be extended.
Other supporting materials that the Exit And Entry Administration Department requires.
Timeline for Application
The applicant can apply for an extension of no longer than 30 days. The accumulated length of extension shall not exceed the original duration of stay specified in the visa.
The extension for a longer duration of L visa is only valid for this referred entry and does not affect the entry times and period of validity of the original visa.
Points for Attention
Applicants will be required to accept a face-to-face interview.
For the above-stated materials, the original documents need to be verified, and submit the copies.
Any application materials in foreign language (except English) should be translated into Chinese by qualified translation Company before submission.
Applicant who doesn't nullify cancel China's household registration should apply after the cancellation of household registration. The relevant cancellation certificate issued by local police station of the registration shall be submitted if the Exit-entry Administration Department consider it necessary.
Foreigners under 18 who submit the application for the first time in China must submit their birth certificates, passports of parents and overseas residence certification.
Relevant rules please refer to No. 23 Notice of the Regulations on Foreigners' Visa Application.
Processing time: 7 business days, in case of all materials for application are provided completely.
If you enter into China on a tourist "L" visa with intent to stay beyond the validity period specified on the current visa, Beijing Expat Service Center can assists you to extend your current "L" visa in Beijing. So that you can get a one month zero-entry or single-entry L visa once without leaving China.
You may submit the application to the Visa Office of the Embassy or Consulate which holds consular jurisdiction.
The regular processing time is 4 working days. In some country, it can be issued in the same day.
Required Documents of Chinese Tourism Visa Application:
A valid passport as well as a copy of its information page: Your valid passport must have at least seven (7) months of remaining validity and at least one blank visa page in it.
Application form
Photo: one recent photo (Photo Requirements of Chinese Visa) glued or stapled on the application form.
Travel Insurance (French Only)