Foreigners, who want to work in China, must hold work visa (Z visa), other type of visas are not proper for work. This should be applied for through an overseas embassy before travelling to China. Sponsorship is required from an approved employer permitted to hire foreign workers. It is a single-entry visa granted to those who have taken a job in China.
In fact, we are talking about to work legally in China, that requires a lot of paperwork and we specify the steps in the chart below.
Flow Chart of China Work Visa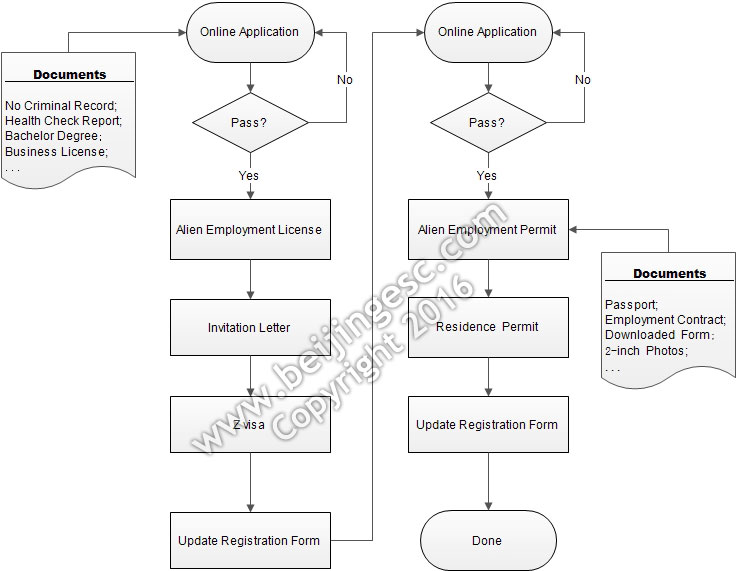 China Work Visa in Steps
The common sense Work Visa means a series of steps to get relevant documents which support foreigners to work in China legally. In Beijing, the steps are as below:
Online application;
Getting Beijing employment license;
Getting invitation letter;
Getting China work visa (z visa) in Hong Kong;
Online application;
Getting China employment permit;
Getting Beijing Residence Permit (normally valid for 1 year).
Once a job offer has been made and a contract signed, but before moving to China or applying for a visa, certain documentation must be supplied to the employer before beginning the visa application. This documentation is needed for the company to obtain a work permit or foreign expert's licence. The employee is likely to be asked for copies of:
Passport
Curriculum Vitae
Certifications of qualifications or expertise (particularly for teachers)
Medical check report
The applicant's employer should then supply all the relevant paperwork to the employee, who can then apply for the work visa.
The visa application procedure varies according to the policy of each overseas embassy. Applicants will need to supply:
Completed application form with photos (Photo Requirements of Chinese Visa)
Passport (with at least six months' validity)
Work permit or foreign expert's licence (documentation provided by the employer)
Official letter of invitation from the employer
Marriage certificate and/or children's birth certificates, if travelling with a family
Appropriate fee
The exception to the above is for journalists intending to work in China as foreign correspondents. They must apply for a long-stay journalist visa (J-1 visa). The procedure is the same, but they also need a Foreign Affairs Office letter. This should be arranged by the employer.
Times for processing the visas vary depending on the embassy, and can take anything from a few days to a few weeks. For example, the Chinese Embassy in the United States takes four working days to process the visa and charges a fee of US$130 for US citizens. The process can be speeded up by paying an express fee. Some embassies require applications in person, others allow online or postal applications.
News: The latest update on China working permit reform 2016.