Due to the high number of unqualified photos submitted by Chinese visa applicant, the consular department of China MoFA issued Photo Requirements for Chinese Visa Application.
Requirements of Chinese Visa Photo
The Photo should be taken within the last 6 months.
The background must be white, with no shadows over the face or background.
The photo must include a clear frontal view of the full face, neck, and upper shoulders.
Size of the Chinese Visa Photo

The photo should measure 33 mm (wide) by 48 mm (high). These are commonly referred to as 2寸 (cun) photographs, referring to a traditional Chinese unit of measurement. Further:
The head width should be 15 to 22 mm.
The head height should be 28 to 33 mm, measured from the bottom of the chin to the top of the head.
The space from the top of the head to the top of the photo should be 3 to 5 mm.
Facial Requirements of the Photo
The facial expression should be neutral with eyes open, and all facial features should be clearly visible. Eyeglasses are allowed in the photo only if the lenses are not tinted and there are no glare, shadows, or frames obscuring the eyes. A hearing aid or similar device is allowed in the photo.
Head Coverings
Hats or head coverings are only allowed if worn for religious reasons and if they do not obscure any facial features.
Unacceptable Chinese Visa Photos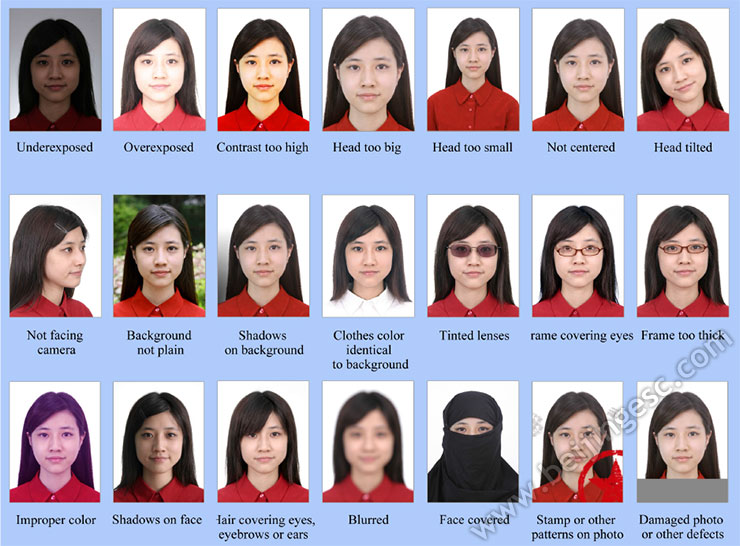 Beijing PSB has 2 photo studios in it's building, you can take photo on the 2nd floor, and print photos out on the ground floor.