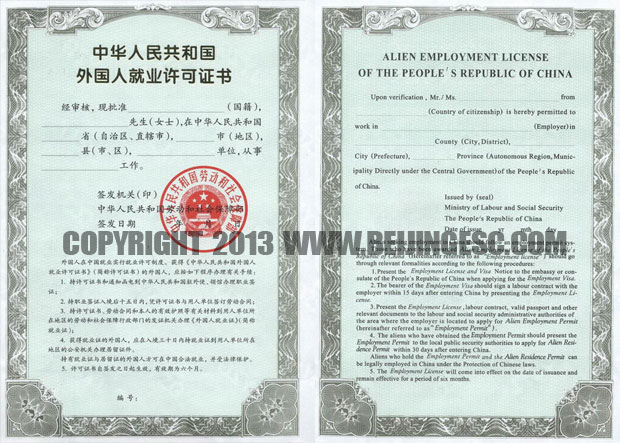 Aliens seeking employment in China should follow an employment permit system. Those who have been awarded Alien Employment License of the people's republic of China (Hereinafter referred to as "Employment license") Should go through relevant formalities according to the following procedures:
Present the Employment License and Visa Notice to the embassy or Consulate of the people's Republic of China when applying for the Employment Visa.
The bearer of the Employment Visa should sign a labor contract with the employer within 15 days after entering China by presenting the Employment License.
Present the Employment License, Labor contract, valid passport and other relevant documents to the labor and social security administrative authorities of the area where the employer is located to apply for Alien Employment Permit (hereinafter referred to as "Employment Permit").
The aliens who have obtained the Employment Permit should present the Employment Permit to the local public security authorities to apply for Alien Residence Permit.
The employment license will come into effect on the date of issuance and remain effective for a period of six months.