Police Clearance Certificate is also known as "No Criminal Record Certificate" in China. This certificate may be required for child adoption, green card, immigration home study, court requirements, residence permission or securing employment in some countries.
In any case, you need to get a China certificate of No Criminal Record - a criminal record clearance from the Chinese authorities, we have solutions for you:
You can get China PCC by taking 3 steps, please check the following flowchart to understand our procedure.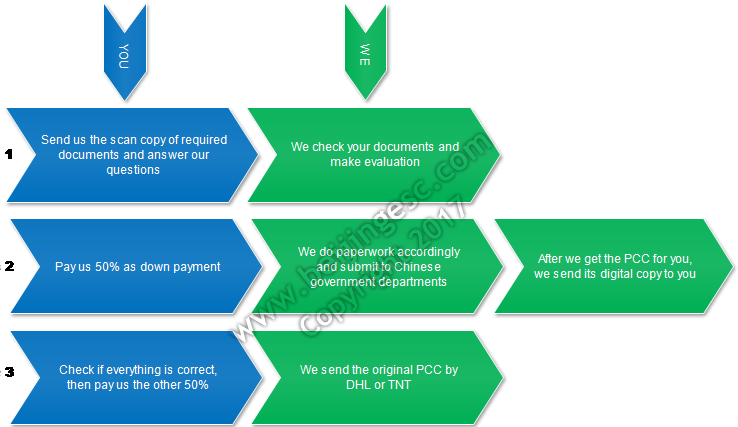 Required Documents for China Police Check
Passport (If you have already got a new passport, we also need it.)

Photo page.
All Chinese residence permit / Chinese visa pages.
All Chinese entry/exit stamp pages.

Graduation Certificate(When applicant had student visa in China)
Employment Permit (When applicant had working visa in China)
Letter of Authorization
Tell us the following information
Which country will your Police Clearance Certificate / No Criminal Record Certificate to use for? If so for what (job, green card, immigration home study, court requirements, residence permission)?
Which period of your stay in China should Police Clearance Certificate / No Criminal Record Certificate cover? (For example, from 19th Sep 2011 to 6th Sept 2014, then we need to see your entry stamp is 19th Sep 2010, and your exit stamp is 6th Sept 2012 on your passport, and we need that copy)
The official Police Clearance Certificate or No Criminal Record Certificate is in Chinese and English. Do you need it to be translated to other languages? If so, which language?
How many copies do you need?
Do you need this official Police Clearance Certificate or No Criminal Record Certificate to be legalized/certified by Chinese Foreign Ministry again? (most of countries accept the official NCR, and no need it to be legalized/certified by Chinese Foreign Ministry again, but few countries still need it to be legalized/certified by Chinese Foreign Ministry again, so please double check and confirm. Please notice: notarized by Chinese Foreign Ministry will take longer time and extra cost)
Do you need this official Police Clearance Certificate or No Criminal Record Certificate to be legalized/certified by any foreign embassy in Beijing again?
Please tell us your current address (for shipment).

Country
City
Address
Postal/Zip code
Phone Number
Processing time of China Police Clearance
Normal Service: 20 Working Days
Expedited Service: 10 Working Days
Samples of China Police Clearance