Self-drive Car Rental in Beijing China
In China's rapid grow car rental market, eHi and China Auto Rental are the most reliable companies (eHi has 70 million USD investment from Goldman Sachs on Augest 26th 2010; China Auto Rental has 150 million USD from Legend Holdings). Both of them have secure online membership management system and express car rental service in China's metropolis like Beijing, Shanghai and Shenzhen.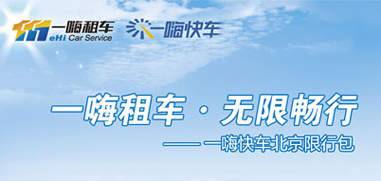 eHi Car Service Co. Ltd is a leading car service provider in China for both self-drive service and chauffeur-drive service. It serves the needs of our corporate and individual clients nationwide including Hong Kong, Macao and Taiwan. Its fleet consists of Buick, Volkswagen, Mercedes, BMW, Honda, Toyota, Mazda and others, as well as vans and buses.
eHi has earned the best rating and trust of majority of the global Fortune 500 companies in China. eHi has been a fast growing ground transportation service company in China and earning many awards throughout years. eHi is specialized in short-term rental with or without chauffeur. eHi is the first ground transportation company in China providing car sharing, a 'Zip Car' like service.
eHi look forward to having you experience our reliable, comfortable, convenient and professional service.
See express report : EHi, a Top Car-Rental Shop in China
Documents Required:
Payments:
Credit Card and Cash.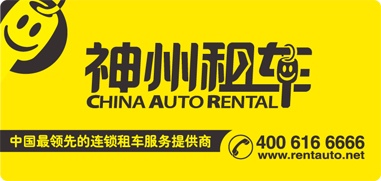 China Auto Rental is established in August 2007 and headquartered in Beijing, is co-invested by internationally renowned enterprises and venture capitals. It is China'€™s leading national auto rental brand, providing business and leisure customers home and abroad with full range services in Mainland China, as well as assorted roadside assistance and value-added services.
China Auto Rental provides its clients with various choices as Chevrolet, Buick, Passat, Hyundai and so on. It serves a lot of corporates, such as The Agricultural Bank of China, Haier, BTV (Beijing TV Broadcasting Station), PICC, IBM, SINOPEC... ...
China Auto Rental named by Forbes as one of China's most potential enterprises in 2009.
Documents Required:
Payments:
Credit Card Only ( Both China Credit Cards and Oversea Credit Cards)
Chauffeur Car Rental in Beijing
There are also small car rental companies in Beijing. They provide tailor-made car services to compete car rental gaints in niche market.
Peking Car Rental is a Beijing-based company which provide customerized car services for foreigners who are doing business in Beijing or explorering Beijing.
Different from above Chinese car rental gaints, Peking Car Rental have luxury, commercial, Sight seeing, airport-transfer cars with driver for rent.
If you don't have Chinese driving license or you are not familiar with Beijing city, then Peking Car Rental is the right one which match your need.